Because a lifetime of good health starts in childhood.
At Greater Portland Health, our pediatric team provides expert diagnosis and treatment of the many diseases and injuries that affect children. We offer care for the whole spectrum of health, from head to toe and including teeth, eyes, mind and heart. Just as important, we help keep your child healthy through regular well-child visits and preventive care.
One thing that separates us from most ordinary practices is our ability to understand and care for people from a wide variety of backgrounds, from different places, speaking all kinds of languages. We think this applies to your children, too: we listen as carefully to our youngest patients as to anyone else.
Ask about our full spectrum of services:
Wellness exams
Vaccines and other preventive care
Treatment of illnesses and injuries
Behavioral health screening and therapies
Referral to greater Portland's finest specialists


Our pediatric providers see patients at all nine locations including two housing sites - Riverton and Franklin Towers - and within four Portland Public Schools - Portland High School, Deering High School, Casco Bay High School, and King Middle School.
Call (207) 874-2141 to schedule an appointment today.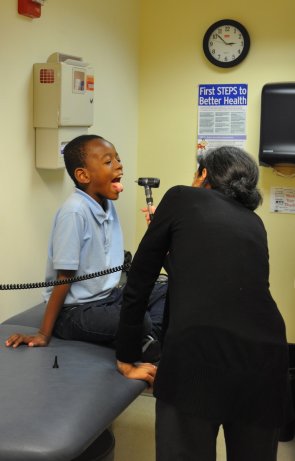 Our lead Pediatrician, Gita Rao, MD, spends the time needed to fully understand each child's health status and needs.