What MaineCare Expansion Means to Our Patients
March 1, 2019
In November 2017, Maine voters approved a referendum to expand Medicaid (or MaineCare) to cover more low-income Mainers. The expansion law extends MaineCare health insurance coverage to residents earning incomes below 138% of the Federal Poverty Level. This amounts to a yearly income of $16,753 for an individual or $34,638 for a family of four. Before the expansion law, only people who fell into specified "categories", in addition to meeting income requirements, were eligible for coverage. "Categories" of people covered include children under the age of 20, pregnant women, and people with disabilities. With the passing of MaineCare Expansion, an estimated 70,000 Maine residents will be newly eligible for MaineCare coverage.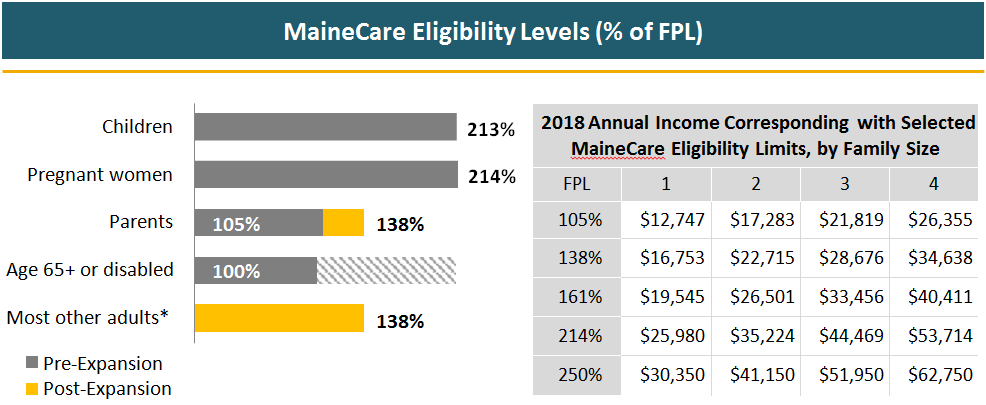 After much delay by the previous administration, in January 2019, Governor Janet Mills signed an executive order to expand MaineCare and many newly eligible residents have already been enrolled. This development is very exciting for our organization and the community. In 2017, approximately 43% of our patients were uninsured. People without insurance are much more likely to postpone receiving necessary health care services than people with insurance. This can have a significant impact on their long-term health.
For our patients without insurance, coverage through MaineCare will enable them to access essential healthcare services beyond what we alone are able to offer by covering costs for prescriptions or specialist services. While those without insurance may receive primary care services at our health centers on a sliding fee scale or at no cost, we are not able to account for the cost of prescriptions or specialists services.
As a Federally Qualified Health Center, only a portion of our operating funds come from the federal government. Another large funding stream is revenue generated by our health centers through reimbursements from patients' insurance, payments under our sliding-fee scale program, and copays. Our model relies on reimbursements from patients' insurances to support providing services to those without insurance. For every insured patient we serve, we are able to provide services to two patients who do not have insurance. Of our uninsured population, an estimated 33% will be eligible for MaineCare under expansion. Currently our Financial Assistance Counselors are working with patients to help them determine if they are eligible for MaineCare coverage and complete the application. Since July 2018, our Financial Assistance Counselors have helped 210 patients complete MaineCare applications.
Not only will an increase in the proportion of our patients with insurance improve the health of our patient population, it will also allow us to expand our services to even more uninsured individuals and families in the Greater Portland area.
Read more about MaineCare Expansion…
https://www.pressherald.com/2019/01/03/mills-signs-executive-order-to-implement-medicaid-expansion/
https://www.washingtonpost.com/national/2017/live-updates/health-care/obamacare-affordable-care-act-definitions/what-is-the-aca-medicaid-expansion/?utm_term=.7718f531a060
https://nashp.org/medicaid-expansion-in-maine-moves-from-the-state-legislature-to-the-courts/
https://www.kff.org/uninsured/fact-sheet/key-facts-about-the-uninsured-population/
http://www.mainecahc.org/guide-to-maine-health-care/mainecare/