Back to Normal - The Important Role Vaccines Play in Ending COVID-19
April 30, 2021
By Maty Swartz
Maty Swartz is the Grants and Marketing Coordinator at Greater Portland Health. Maty has background studies in public relations and English, as well as experience in nonprofit outreach and marketing.
It has been just over a year since Maine recorded its first Coronavirus case. Now, our cumulative case total stands at a staggering 60,945, and our 7-day average remains just below 300 new cases per day. For many, these elevated figures may strike a bitter chord, or even bring about feelings of "COVID fatigue." As the numbers continue to climb, it leaves us wondering when things are going to get better, when we will finally be able to return to our normal lives. Fortunately, this uncertainty with which we're all so well acquainted may soon be coming to an end, making "normal" a possibility once again.
After a year fraught with apprehension, we can find hope in Maine's continuous vaccination efforts. According to the Maine CDC, 56.24% of Mainers have received one dose of COVID vaccine, while 45.54% have received their final dose. This places Maine's vaccination rate among the highest in the country (The New York Times, 2020).
---
However, there are multiple barriers that currently stand in the way of achieving herd immunity in Maine, the most prevalent being access to/allocation of vaccines and vaccine hesitancy.

---
Even so, at 26.5 new cases per 100,000 people, Maine continues to have one of the highest infection rates in the U.S. (Miller, 2021). Individuals in their 20s and those under the age of 20 now make up 18.57% and 17.84% (respectively) of Maine's new COVID cases, the largest share of any age group in the state (Maine CDC, 2021). One promising sign of vaccine efficacy is the decrease in new cases among older Mainers, with only 4.47% of infection in those 80 and older (eligible as of January 13), 5.54% of infection in those aged 70-79 (eligible as of January 13), and 10.63% of infection in those aged 60-69 (eligible as of March 3). On April 7, vaccine eligibility was expanded to all Maine residents aged 16 and older, which could curb the high rate of infection in younger, unvaccinated groups.
Through his role in Greater Portland Health's School-Based Health Centers (SBHCs), Practice Manager Jason Goff has played an active part in coordinating vaccination efforts in Maine's younger population.
"It's important to reach the young adults because of their in-public exposure and risk levels," Goff says. "Many students are essential workers within our community and understand the importance of safety. And with participation, they practice a level of role modeling and leadership to other hesitant peers."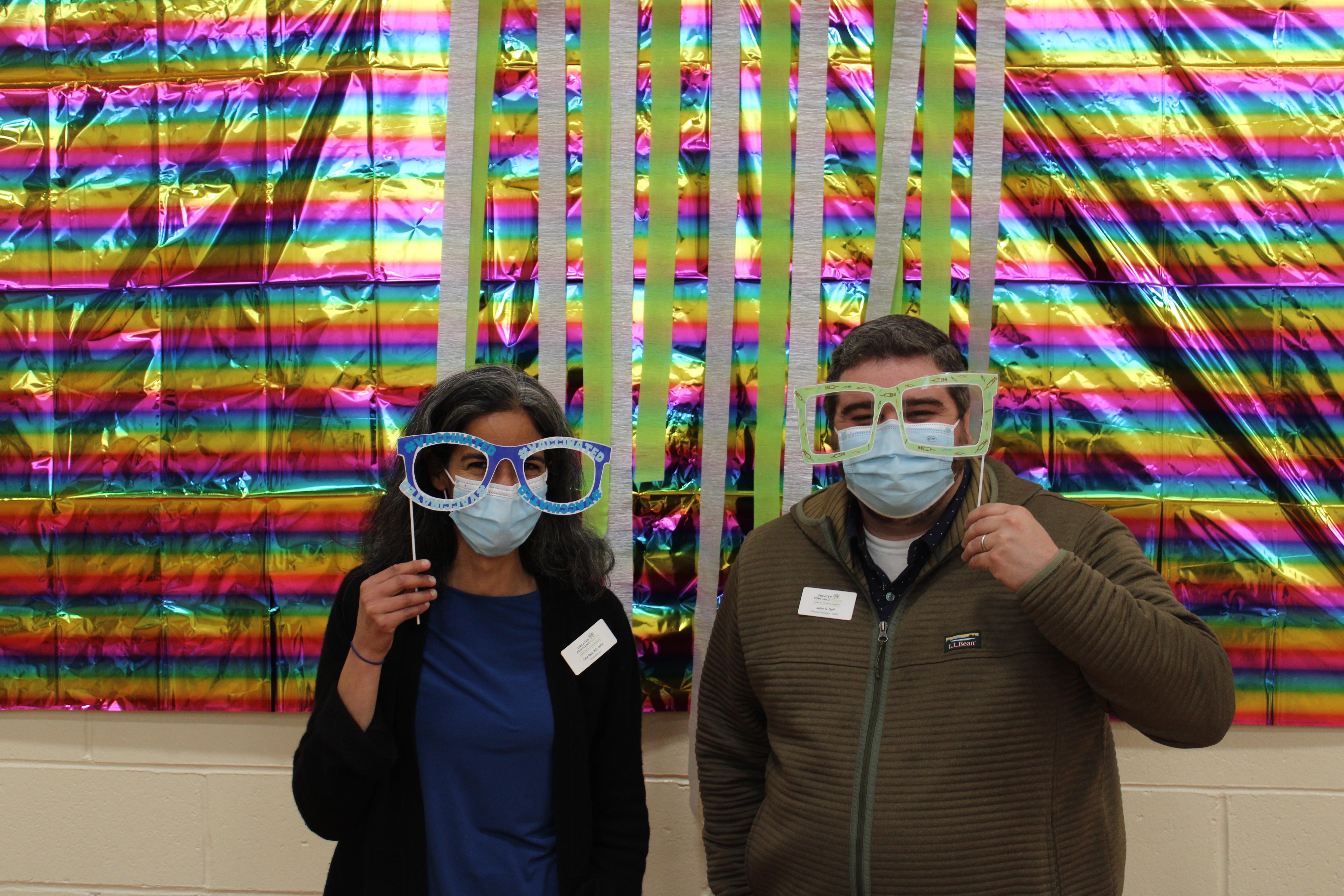 4/28/2021 - SBHC Clinical Director Dr. Gita Rao (left) and Practice Manager Jason Goff (right) stop by the photo booth at a recent GPH COVID-19 vaccination clinic.
While this increase in eligibility is an encouraging step toward tempering Maine's rising infection rate, there is still much work to be done. Many experts have agreed that communities may achieve herd immunity when 70-85% of that population is immune to COVID-19—which is nearly double Maine's current final dose vaccination rate. Herd immunity occurs when a majority of a population is immune to a disease, decreasing the prevalence of outbreaks and the likelihood that they affect the immunized population (D'Souza & Dowdy, 2021). However, there are multiple barriers that currently stand in the way of achieving herd immunity in Maine, the most prevalent being access to/allocation of vaccines and vaccine hesitancy.
"I feel that many young adults are hesitant to get the vaccines," Goff adds. "But after speaking with staff at the vaccine sites and seeing other peers stepping up to get the vaccine, it's clear that they are more comfortable and social with other patients who are also getting vaccinated."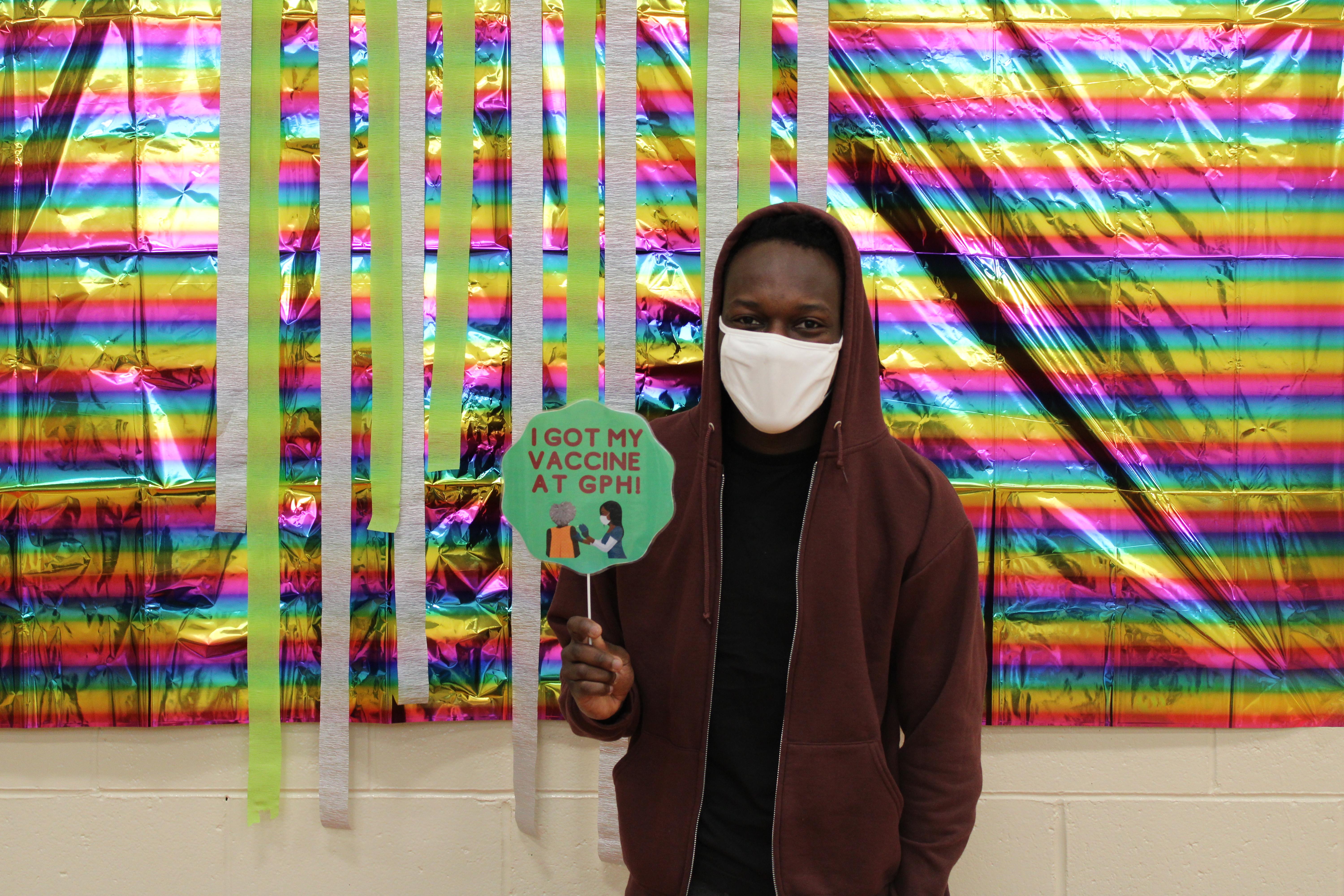 4/28/2021 - A local student receives their COVID-19 vaccine from Greater Portland Health.
At the time of this post, three vaccines have been authorized for emergency use by the FDA: the Pfizer-BioNTech vaccine, the Moderna vaccine, and the Janssen (Johnson & Johnson) vaccine. Based on clinical trials, these vaccines were found to be 95%, 94.1%, and 66.3% effective, respectively, in preventing illness from COVID-19. According to the CDC (2021), these vaccines are all safe, effective, and most importantly, reduce the risk of severe illness. Additionally, recent research tells us that all three approved vaccines offer protection against known COVID-19 variants, highlighting the important role that vaccines will play in ending the pandemic (Healthline, 2021).
What will help us finally reach this end, Goff says, is providing education about vaccine efficacy and encouraging adherence to COVID-19 precautions.
"I believe that with continued guidance from the CDC and other partnering officials and providers, we can continue to combat the rise of infections from COVID-19," he says. "Many of our 18+ students are spreading the message to others and continue to encourage participation in vaccines through social media and blog comments. In general, students are interested in discussions with school faculty and providers at GPH, and we will continue to support and educate interested parties."
---
References:
CDC. (2021, March 9). Understanding how covid-19 vaccines work. Retrieved April 30, 2021, from https://www.cdc.gov/coronavirus/2019-ncov/vaccines/different-vaccines/how-they-work.html?CDC_AA_refVal=https%3A%2F%2Fwww.cdc.gov%2Fcoronavirus%2F2019-ncov%2Fvaccines%2Fabout-vaccines%2Fhow-they-work.html
Division of disease surveillance. (2021, April 30). Retrieved April 30­, 2021, from https://www.maine.gov/dhhs/mecdc/infectious-disease/epi/airborne/coronavirus/data.shtml
D'Souza, G., & Dowdy, D. (2021, April 07). What is herd immunity and How can we achieve it With covid-19? Retrieved April 29, 2021, from https://www.jhsph.edu/covid-19/articles/achieving-herd-immunity-with-covid19.html
Healthline. (2021, April 23). COVID-19 vaccines are still Effective amid rising number of variants. Retrieved April 30, 2021, from https://www.healthline.com/health-news/covid-19-vaccines-are-still-effective-amid-rising-number-of-variants#Evidence-shows-the-vaccines-work-against-leading-variants
Miller, K. (2021, April 27). Infection and vaccination rates stay high as Maine surpasses 60,000 cases. Retrieved April 29, 2021, from https://www.pressherald.com/2021/04/26/maine-cdc-reports-229-new-covid-19-cases/
The New York Times. (2020, December 17). See how the Vaccine rollout is going in your County and state. Retrieved April 29, 2021, from https://www.nytimes.com/interactive/2020/us/covid-19-vaccine-doses.html#by-state