Job Shadow Day
April 1, 2022
By Ella Jocher
Ella Jocher is the Marketing and Grants Coordinator at Greater Portland Health, with background studies in psychology and Spanish.
Greater Portland Health was honored to be selected by the University of Southern Maine to participate in piloting their Job Shadow Program. Wadak Harbi, a pre-med major, joined us for the day to get a first-hand experience of working in healthcare. She wrote the below article about her job shadow experience.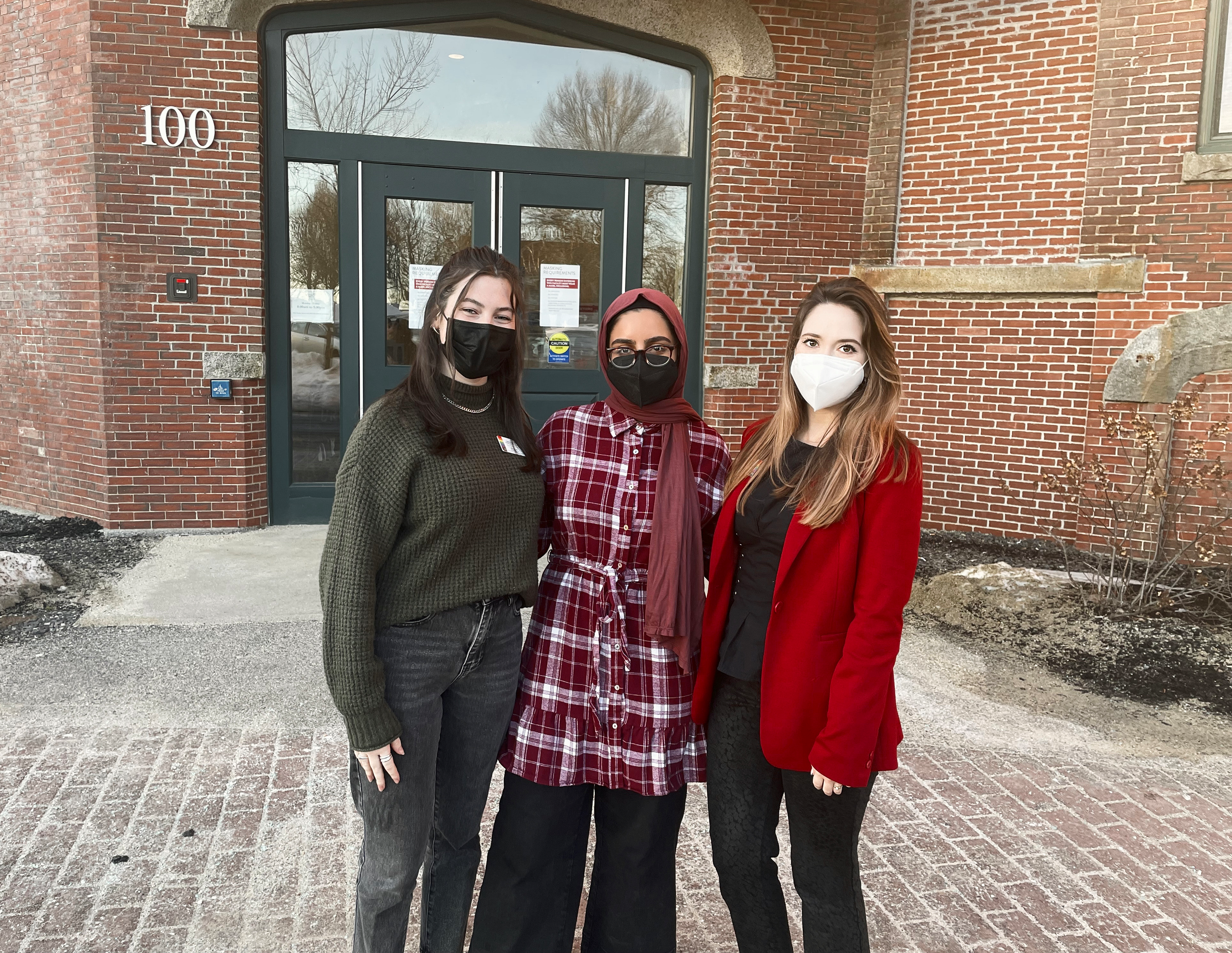 Ella, Wadak, and Maty
"Since COVID-19 hit, it has been nearly impossible for pre-med students like me to find opportunities for internships and job shadowing. Before I closed my computer one December night, I checked the University of Southern Maine job board and saw the Greater Portland Health job shadow program. It was exactly what I wanted, and I submitted my application. To my delight, I was accepted, and on February 11, I set off for The Castle, one of twelve GPH sites.
Ella and Maty warmly welcomed me to their office where Ella writes articles and social media content, and Maty writes grant proposals. Without Ella, people would not know about GPH, and without Maty, GPH would not receive the funding that makes its healthcare accessible.
Next, I met the quality team, Safa and Bridget, in their cozy and colorful office. Safa and Bridget keep track of patients' treatment and progress so providers can provide the best possible care.
I was seeing firsthand what it was like to make a difference in children's health, the goal that motivates me to do the hard work of a pre-med major.
Paige and Dennis greeted me in the patient reception room, whose windows look out at the airport. Paige and Dennis make every patient feel welcome as they book appointments and answer questions. They are the friendly face of the clinic as they keep the schedule running for patients and health care providers. The work is intense, but the mood is upbeat, as shown by the little sticky toys on the ceiling. A co-worker had thrown the first one, and Paige and Dennis added their own. On busy days when stress mounts, they look up and say, "Hang in there!"
My last stop was the clinic, where I got to meet ZamZam, a nurse. She showed me treatment rooms, the lab, and her work area. She sees patients, takes phone calls, and assists other health care providers. I also observed Anissa, one of the medical assistants, and watched as she took blood samples and, with great kindness, gave vaccines to two children. She let me give them stickers, lollipops, and books as rewards for their cooperation. I was seeing firsthand what it was like to make a difference in children's health, the goal that motivates me to do the hard work of a pre-med major.
At the end of the day, I wished I could stay longer and learn more about their important work. As I was leaving, Dennis gave me two sticky toys. I tossed one onto the office ceiling, where I hope it stays for a long time. The other is on my bedroom ceiling, a reminder of the inspirational day I spent with Greater Portland Health."
Thank you to Wadak for joining us and sharing her experience, and to the University of Southern Maine for selecting us to participate in this exciting program. We look forward to hosting additional job shadow students in the future!