HRSA Awards $100,000 to Greater Portland Health School-Based Health Centers
February 19, 2019
In February, the Health Resources and Services Administration (HRSA) awarded Greater Portland Health a $100,000 grant to increase mental health, substance abuse, and childhood obesity services in our school-based health centers (SBHCs) as part of the total $11 million awarded by HRSA to 120 SBHCs across the country. The funding will be used for facilities updates at our SBHCs at Portland High School, Deering High School, Casco Bay High School, and King Middle School. We will focus on improving the efficiency and effectiveness of healthcare services offered to students and creating more teen-friendly spaces at our SBHCs.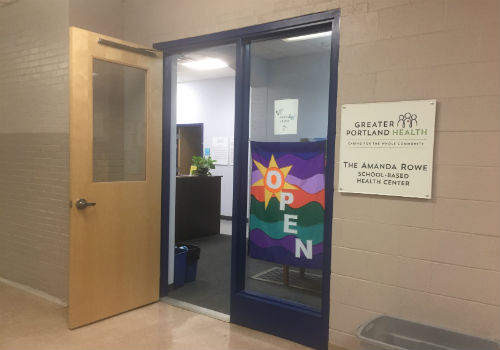 Portland High School SBHC
The number one need identified by health center staff was an improved network to allow for more efficient and effective use of our electronic health record and to establish an internet-based phone system to improve communication. A fast connection is necessary for quality documentation in patients' charts and overall high-quality health care. Funding will also allow for the purchase of more software licenses for providers. As our SBHCs expand with increased grant funding supporting more behavioral health providers, software licenses limit how many providers we are able to support.
Another major aspect of our plan for improvement involves creating welcoming, engaging, and safe SBHCs for students to encourage and de-stigmatize visits to the health center. Sound masking will be implemented in each of our exam and counseling rooms to ensure conversations between providers and patients remain confidential. Many students discuss sensitive subjects with providers at our SBHCs, so it is important for students to feel comfortable sharing. In addition, more comfortable seating, wall decorations, and educational activity kiosks will be added to waiting rooms to better engage with students and increase the chances of them accessing care when needed.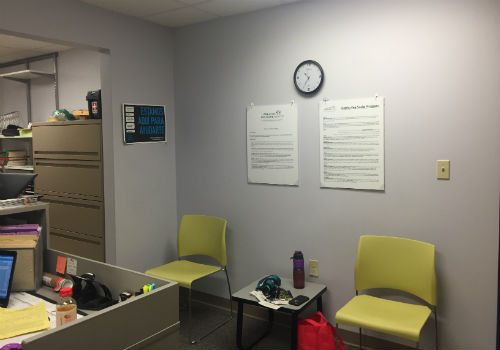 Waiting Area at King Middle School SBHC
Lastly, we plan on implementing two initiatives to engage students in obesity prevention services specifically. First, we plan to create a wellness room next to our SBHC at Portland High School. This room will contain exercise machines, a TV with educational programs, and healthy snacks to create a positive space for students that encourages well-being. Additionally, clinical equipment such as scales, height measures, and blood pressure cuffs will be purchased and made available to students because students often request to weigh and measure themselves. Access to these tools will offer an opportunity for students to engage with their own health and well-being.
Overall, these updates aim to reduce the stigma associated with accessing services at the SBHCs and build the relationship between our SBHCs and our student-patient population. We aim to create an inviting space where students feel comfortable while also ensuring we provide high-quality services that are accessible to all students.
Back To News & Events